Learn how to turn your practice into an efficient, high patient volume profit machine with this ultra-comprehensive and proven method of business success!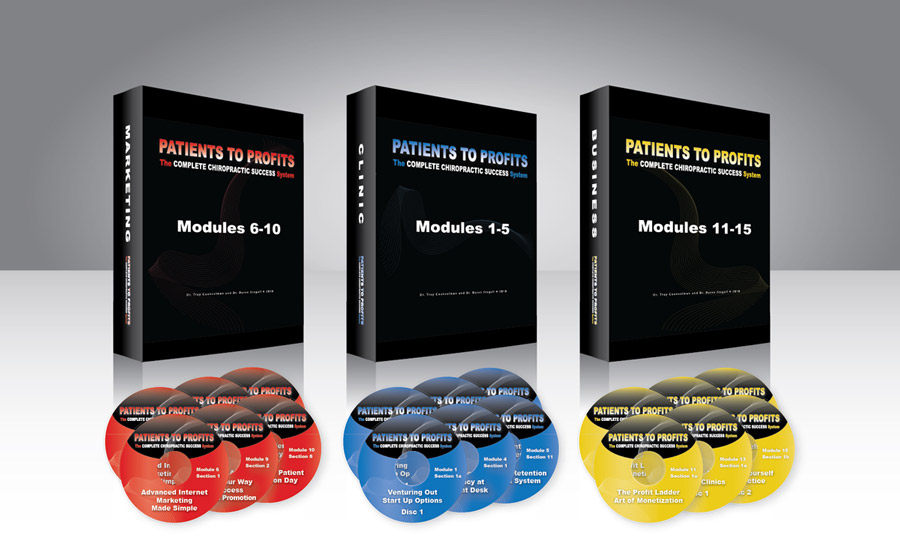 All 34 DVDs and 3 practice development resource manuals set up in an organized and easy to follow format delivered right to your door.
Lifetime Online Access to the entire Patients to Profits System...a forever growing vault of proven practice growth strategies. Includes all forms and marketing materials easily edited for your practice.
Why get into a long term coaching contract when you can find the solution in minutes and all for one price with no monthly fees!
"Patient to Profits is the most comprehensive practice management software package you will ever find. Drs Troy Counselman and Daron Stegall have assembled a product that puts at your ingertips everything you will ever need to start grow, market, and profit from a Chiropractic practice. Patients to Profits takes you from startup, growth, adding associates and profit centers, to retirement It's all there and it's brilliant! It is so worth the investment, it will save you so much time and effort [and] be so easy to use in your office it is a no brainer. You've got to use it. I highly recommend it!"
Louis D Amico DC, R.Ph
6 Weeks to Practice Breakout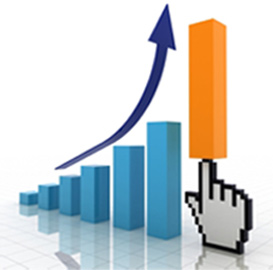 This quick start program will give you a step by step plan for using the patients to profits program and getting your practice busier, better organized and more profitable in just 6 weeks!
Each week you receive specific video training and an implementation cheat sheet focused on doctor, staff and marketing action designed to help your clinic break out and up to a new level of growth!
"Patients to Profits spoon feeds you so you don't waste time. Everything is organized and laid out in proper order"
"In our line of work you cannot settle for what you learned yesterday or 5 years ago, you have to always be evolving patients to profits is not going to allow you to settle and I really like patients to profits for that"
Dr. Travis Mann
Chiropractic Marketing Dominator
Lifetime access to chiropractic's first point and click marketing plan generator.
• Create a marketing plan for next month or an entire year in just minutes.
• Multiple simultaneous promotions ensure a steady flow of new patients.
• Step by step marketing cheat sheets make it easy for you or a staff
member to implement.
• All needed marketing materials are provided. Just modify for your clinic
and go!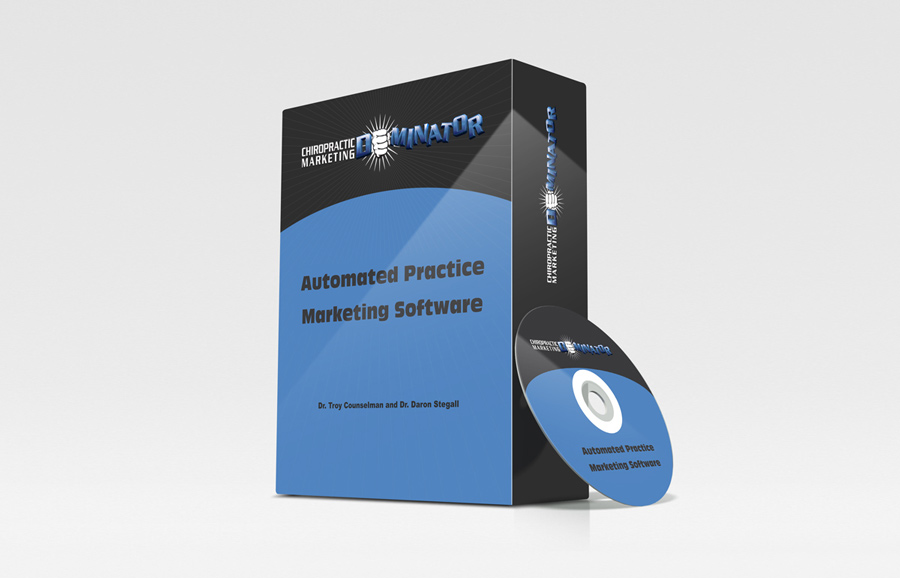 Normal Price = $1,295 + $99/mo
It's Time to Get Off the Feast or Famine Rollercoaster Once and for All!
"The marketing is phenomenal – things that actually work!...
It's an awesome way to approach [running] a practice, I can't say enough about it!"
"You can be a great chiropractor but unless you actually can do the business of it you are not going to really be that happy."
Dr. Matt Reilly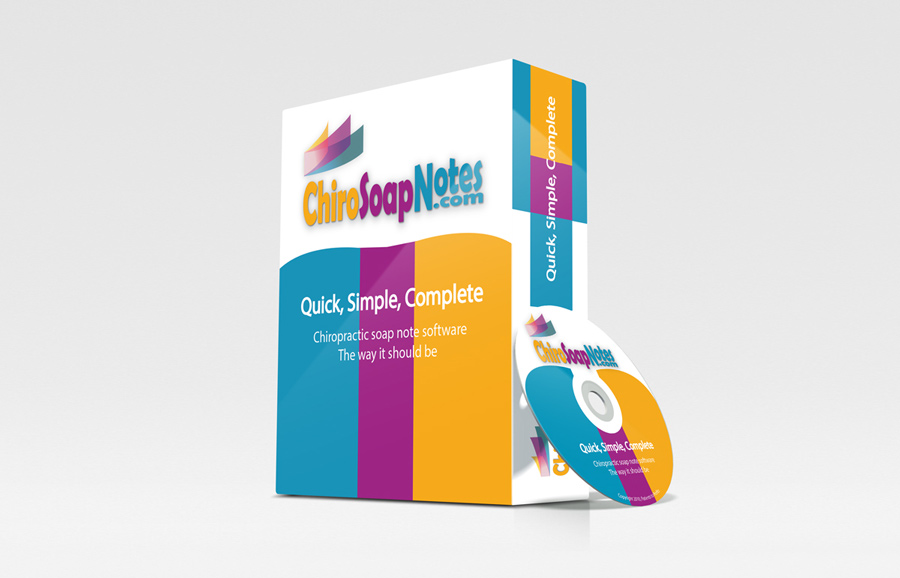 Why spend thousands on complicated EMR software when what you really need to automate is where you spend 90% of your documentation time - the soap note!
This powerful one-of-a-kind functionality will automate almost all the work and yet still very easily create each note with a completely un-canned result.
Normal Price = $495 + $79/mo
Created by a doctor that hates doing SOAP notes FOR the doctor that hates doing SOAP Notes!
"The great thing about Patients to Profits is that it's there, it's comprehensive; virtually every question that I've ever had about what to do in [any business] situation – it's there, and the nice thing about it is it's there when I'm ready for it. "
"It's an invaluable resource.
I highly highly recommend it!"
John Dickerson, DC
1-on-1 Personalized Coaching*
When unique challenges present themselves in your business you will be able to work directly with Dr. Troy Counselman and Dr. Daron Stegall to help find the right solution.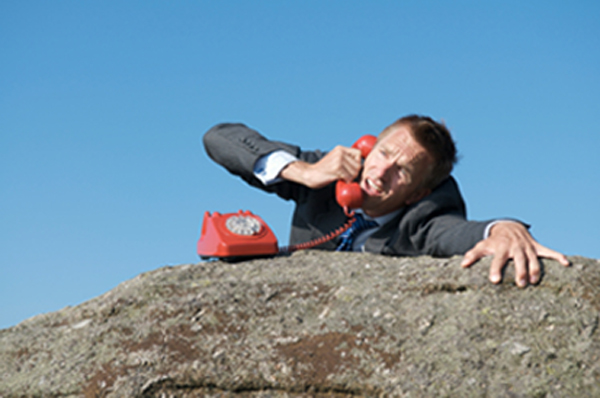 "In this day and age we all need some help in getting the job done.
Well, [Patients to Profits] is making it easy. They make it very easy to get new patients in, and not 1 or 2 patients per day, but 6, 7, 8 patients at a time! All of us can use that!"
Dr. Judson Lee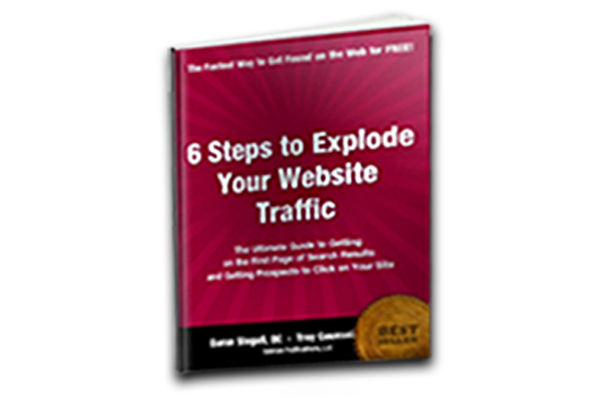 Catapult Your Clinic to the First Page of Google!
Normal Price = $149
Interviews with the Experts Audio Series
Normal Price = $199
NORMAL PRICE: $7,383 + $1,178/mo
Because of the 1-on-1 coaching, we are extremely limited
on the number of memberships, so please Act Now!

Unconditional 30-day Money Back Guarantee!
If for whatever reason within 30 days you decide the Patients to Profits system is not the right solution for you just let us know and we will refund 100% of your purchase price. No questions asked!
Cart Contents -> Checkout -> Confirmation
Powerd by 1ShoppingCart. Your order is safe and secure.